There's never been a better moment to start building your spring capsule wardrobe. The days are getting longer and shops are filling up with new season styles, meaning brighter times are ahead. 
A spring capsule wardrobe is a great way of maximizing the looks in your closet. Creating an edit of succinct items that can be easily interchanged with one another means you can outlay less, and make your clothes work harder. Building a capsule wardrobe for spring is also handy if you're tight on space, as you will always feel you can switch up your look, even if you don't have a walk-in wardrobe.
Categorized by warmer weather, although not quite as sunny as summer months, your spring capsule wardrobe might be larger than other seasons, as spring, like fall requires a certain level of layering to adapt to changing temperatures. As the weather heats up, some of your lighter items can be carried through to the summer, and even onto fall layering, making a spring capsule wardrobe great from a cost-per-wear point of view. 
How to build a spring capsule wardrobe
A spring capsule wardrobe is all about pulling together great basics that can be worn from one year to the next. The building blocks of a wardrobe, when we talk about capsule wardrobe items, we're largely referring to styles that live on past the latest fashion trends. These pieces are then peppered with more trend-led items to bring them up to date for the months ahead. For example, the best straight leg jeans make for a versatile staple, always in fashion, they team with almost anything and everything and can help you carry off new season tops. To refresh your spring capsule wardrobe, you may want to look to the denim trends 2023 and select a couple of key new cuts, such as a denim skirt, or wide leg jeans as a nod to the new season. These can then be paired with more classic items in your closet, such as a timeless Breton top. 
How many items should be in a spring capsule wardrobe?
There's no set number of items for a spring capsule wardrobe, as this comes down to personal aesthetic and lifestyle. If you're very much a stylish top to wear with jeans person, you may have more tops and a selection of the best jeans to bolster the foundations of your new minimalist capsule wardrobe, but it does mean you might have fewer dresses, saving these for special occasionwear only. 
Prefer skirts and dresses? You may have only one pair of jeans in your closet if you don't really wear them – and that's ok. Instead, try styling neutral, basic skirts with directional tops and blouses, or add a refreshing twist via new-in jacket cuts and colors. If you love dresses, you can update classic designs with the latest jewelry trends for a new-season feel.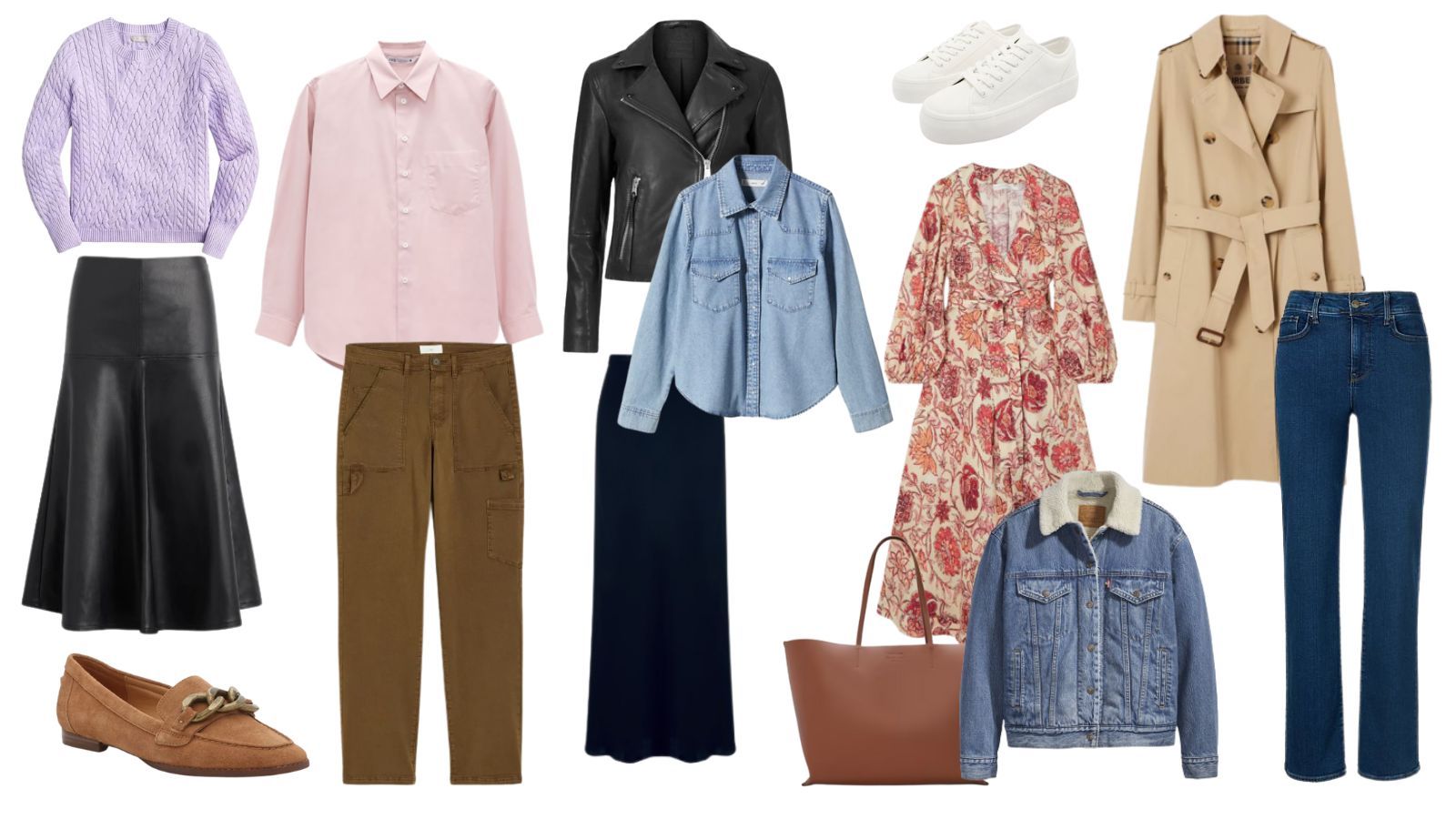 WHAT SHOULD BE IN A SPRING CAPSULE WARDROBE?
A spring capsule wardrobe is filled with items that underpin your look. These are items that you'll pack away before fall, but can be brought back out come March the following year. Clothes that never go out of style, they're often block color, in classic prints and neutrals are likely to play a key role. Some items in your wardrobe may stay with you the whole year. From basic denim silhouettes to plain black tees – these items always come in handy. 
Less about what's on the runway, and more about helping to make those trending items work, spring capsule wardrobe pieces can be peppered with 'new-in' styles for a directional feel and to refresh your look. 
Once you've worked out 'what color suits me', you will also be able to decipher the colors best suited to your spring capsule wardrobe. While lighter, brighter and pastel hues are common for this period, essentially your choices will be largely guided by what works best for you. However, these are items you may want to consider to create the foundations of your spring capsule wardrobe.
Tops: Long, short, and three-quarter-length sleeve t-shirts underpin a spring capsule wardrobe, as this is a season all about layering for the changeable weather. Stock up on a range of different hues, taking note of the fashion color trends 2023 to give a trend-worthy feel to your look. Shirts and blouses also fall into this category and are a great way of adding polish to your look.
Knitwear: When it comes to the best sweaters for spring, lightweight knits should be top of your list. Again, these are great for layering, with cotton cardigans in particular ideal for slipping over dresses and tees. The best cashmere sweaters also work well here as they help to regulate your body temperature, ideal when chilly mornings transform into warm afternoons.
Jeans: A selection of classic jean styles underpin many a capsule wardrobe (whatever the season) and a spring capsule wardrobe is no different. The selection you choose really will depend on the types of jeans you like to wear, although straight jeans are the most versatile for work or play. For spring, wide-leg jeans are back on the agenda and make for a trend-worthy twist. 
Skirts: For a 2023 spring capsule wardrobe, look to '90s fashion trends that show no sign of abating. Long, slim-fit skirts are ideal for heading towards sunnier climes, teaming well with lightweight knits and tees. Slip skirts also make for a great foundation piece, teaming well with both smart and casual looks. Of course, the denim skirt is making a comeback this season, but this wardrobe essential is a great alternative to jeans too.
Dresses: The best midi dresses are a spring capsule wardrobe hero piece and of course, while florals for spring might not be groundbreaking, floral midi dresses are always 'in' for the months ahead. 
Coats and Jackets: It's time to pack away your best winter coat and embrace warmer weather days. The best parkas are ideal for spring weather, particularly as many double up as the best waterproof jackets. As we head deeper into spring, think about lightweight trench coats for smarter looks and the best leather jackets and denim jackets for casual weekend wear. For a spring-ready feel, try adding a gilet, printed or textured trophy jackets, or directional blazers to add a current feel to classics. These can be layered over dresses or jeans to bring outfits up-to-date.
Bags: There is no real set demands on the bags needed for a spring capsule wardrobe. For maximum versatility opt for a leather tote bags for every day, selecting a lighter tan or navy hue to see you spring and summer in style, putting black tote bags away for fall and winter capsule wardrobes. You may also want to start thinking about a crossbody bag  – again in spring appropriate hues that will mix and match with the rest of your closet. Check out the latest handbag trends if you're looking for a directional purchase to dress up classic basics. 
Shoes: Your best winter boots can be put away for another season. Instead, look to versatile white trainers (as these will go with everything), calf or ankle boots for early spring, as well as bagging a pair of the best loafers or classic courts for everyday office attire. 
Sunglasses: Not just for the summer months. Use the latest sunglasses trends as a springboard for a styling opportunity. Take note of any new eyeglasses trends too, to add new season shapes to your wardrobe.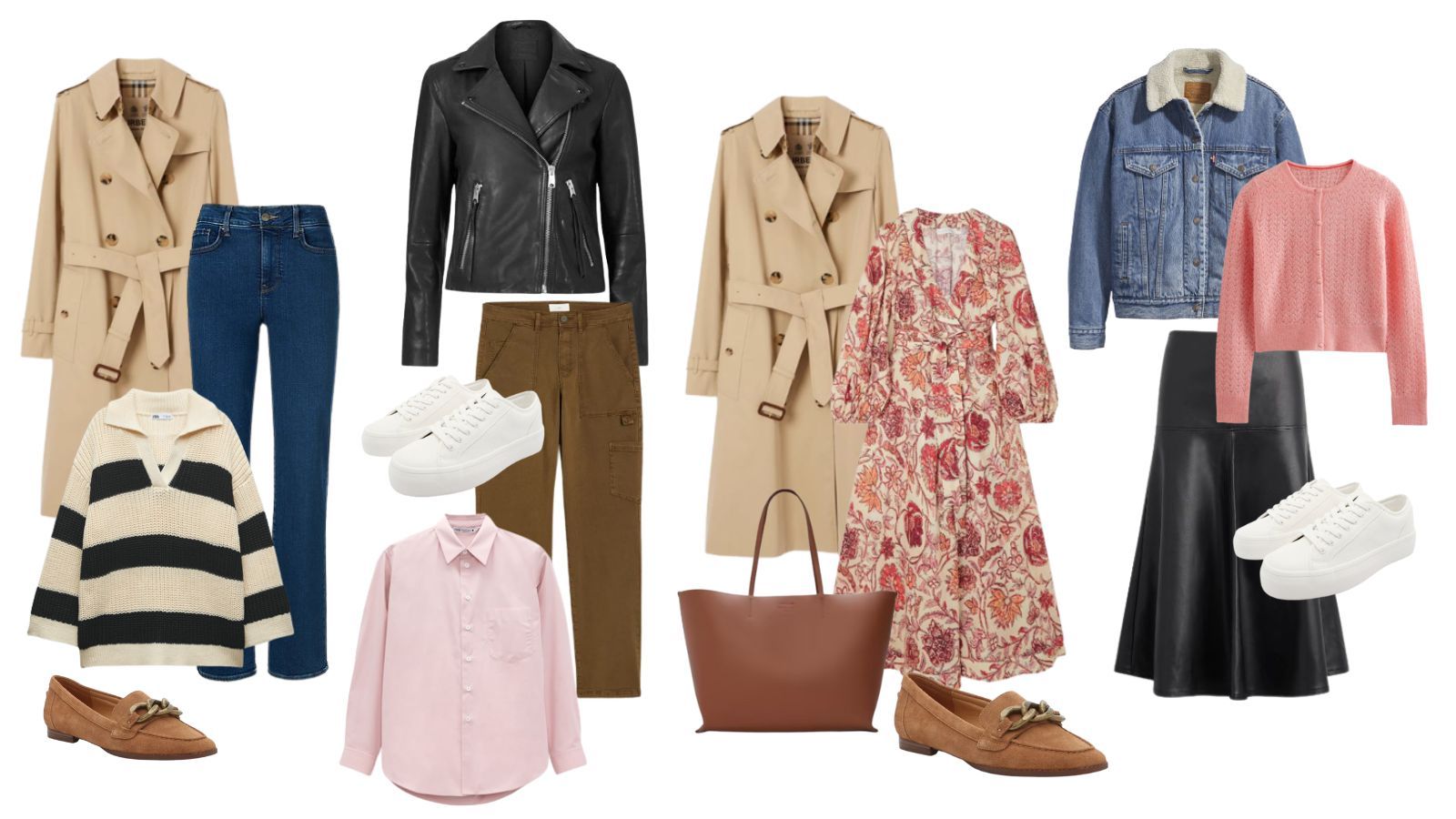 Shop our spring capsule wardrobe edit
Before we jump in with our suggestions, we just want to preface that your spring capsule wardrobe should be tailored to your personal style. That means that while many fashion experts will tell you a capsule wardrobe must-have jeans and a black dress, if this isn't something you'd wear, it has no home in your capsule closet. So use this list as a guide and reinterpret it to suit you. Sure, we've included a floral printed dress because it can work for lots of different occasions, but if your version of this is a tailored pant suit, do you. Think more broadly about your lifestyle needs than anything else, this is particularly true of a capsule wardrobe for women over 50.
We've rounded up some of our favorite, interchangeable spring capsule wardrobe pieces that can be easily mixed and matched for a range of outfits and occasions to make shopping for this season a little easier.